Select here:

Shiloh History

Retreat Center
---

Shiloh History
Shiloh means peace. And we at Shiloh are a peaceful, Intentional Community - a self-sustaining family of diverse interests, sharing a common vision - since 1942 when founded in western New York State on 500 acres near Sherman. We began as the new Christian ministry and dream fulfillment of founder, E. Crosby Monroe, a renowned ships interior designer who served the US Navy during World War II and freely opened his home to many, including servicemen.
As a self-sustaining family, we at Shiloh evolved through a progression of enterprises ranging from general farming, maple syrup production and dairying, to meat processing, flour milling and baking, until eventually we shifted our focus entirely toward natural, certified organic and chemical-free foods - natural sweeteners and oils, NO preservatives, NO synthetics. This came about through our on-going development and wholesale distribution of an extensive line of wholesome, sprouted whole grain breads and other quality food products. We had found our niche!
By 1968, we at Shiloh needed a more centralized and improved setting for our family and enterprise - somewhere in mid-America. In our search, we were simply awed by the pastoral beauty and inspirational nature of the Ozarks of Northwest Arkansas. So, we packed up - lock, stock and barrel - and relocated our entire operation to Sulphur Springs to occupy and expand this unique 117 acre site at town center, bordering a lovely City Park and within a short distance of our nearby 150 acre ranch.
Our Shiloh complex retains three nostalgic, restored turn-of-the-century buildings - the 30 room Livingston and the 100 room (originally) grand Kihlberg resort hotel, plus the 19 room Shiloh House Parsonage,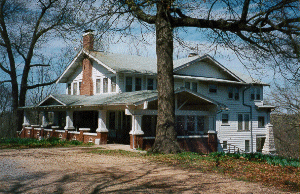 which is recorded in the National Registry of historic landmarks.
The adjacent City Park, once part of the original property site, contains four natural springs - yellow, white and black sulphur, plus a rare lithium spring. Attraction to the healing properties of these waters, plus the lure of local area caves, led to the town site's layout in 1885 and its designation as the end-of-the-line terminal for the Kansas City Southern Railroad. With the first train arriving in 1891, the railroad soon developed more than a dozen local resort hotels, including the Livingston and Kihlberg which opened in 1909 and later sustained two major fires.
Prior to Shiloh, the original site and hotels were occupied successively by the John Brown Military Academy from 1924 to 1951, then by the Wycliff Bible Translators and Missionary Trainers. Shiloh expanded the complex with the additions of our large educational-multi-purpose building, a number of separate individual family living quarters, and various other improvements.

---